dark sky gold stars sunset dinner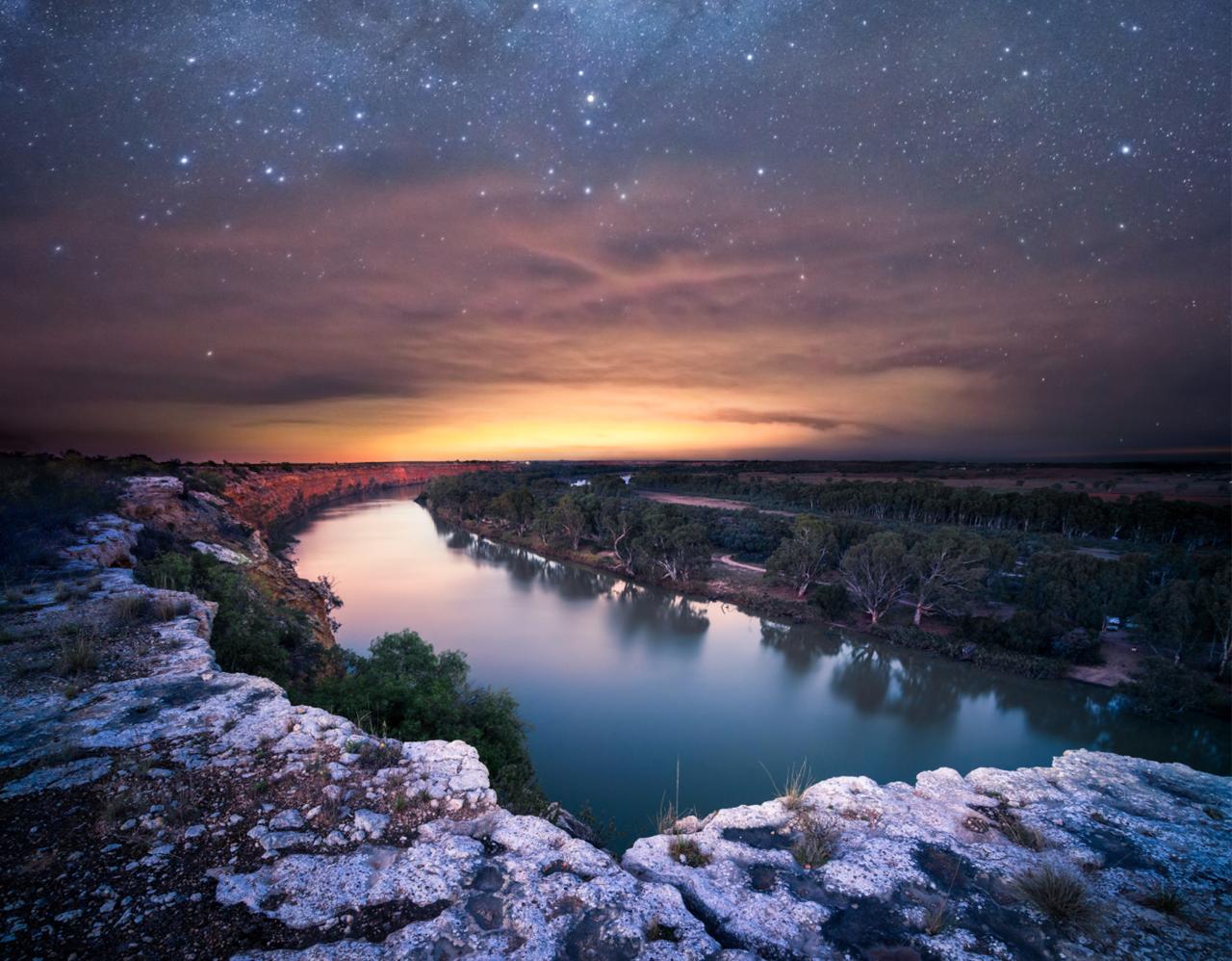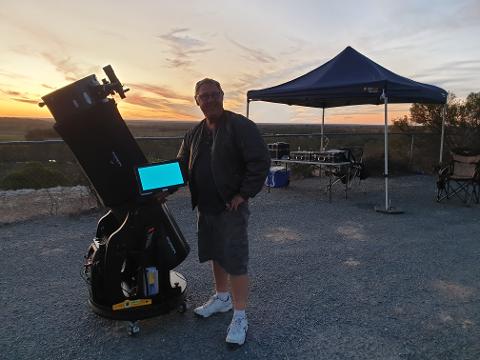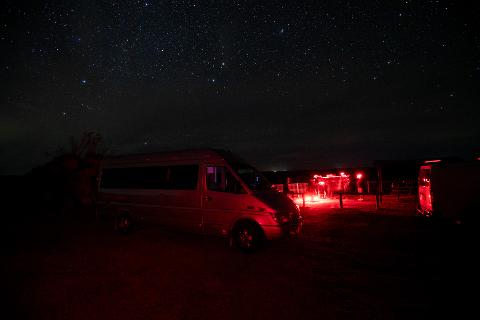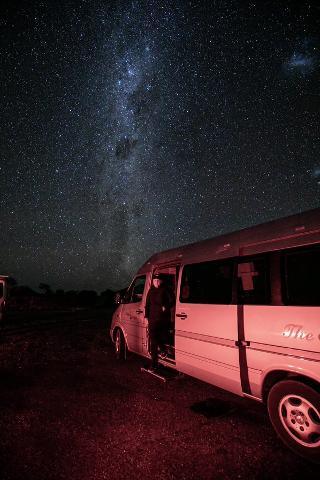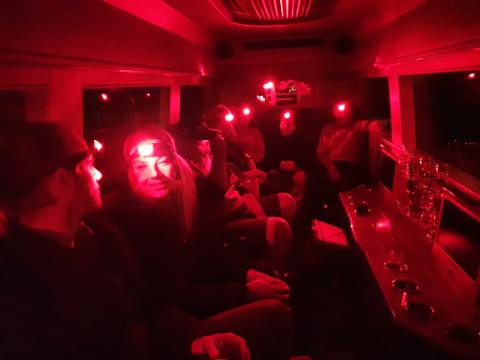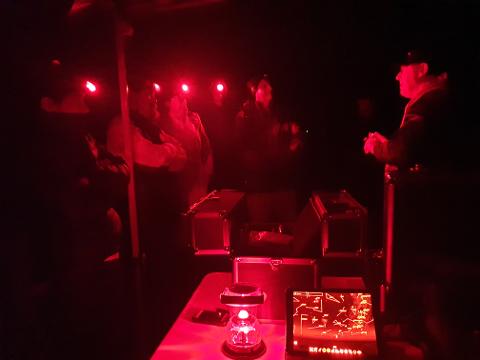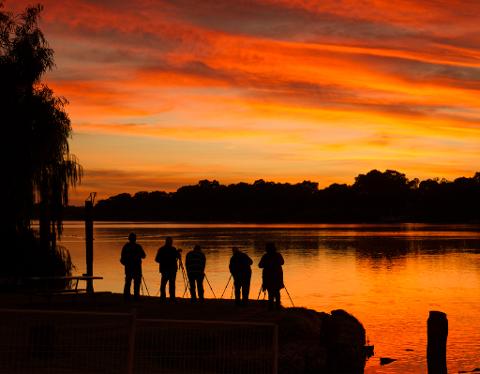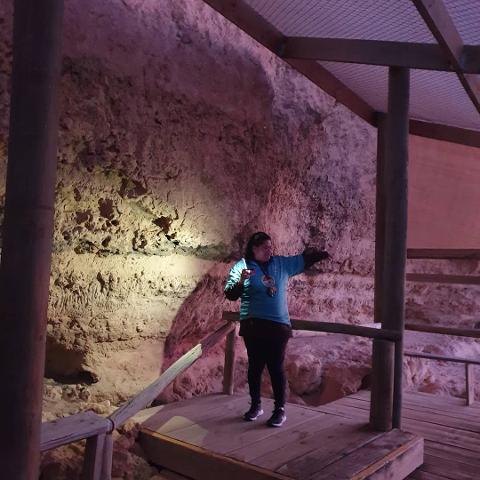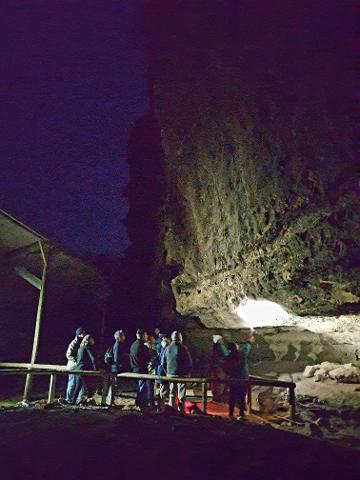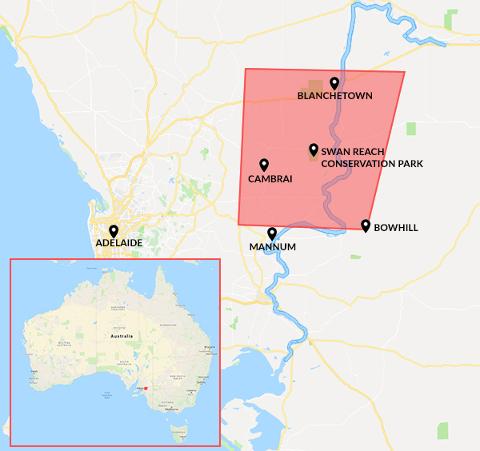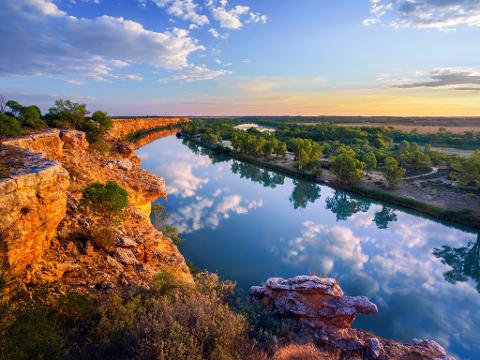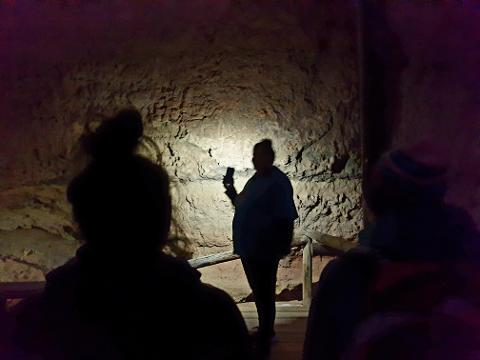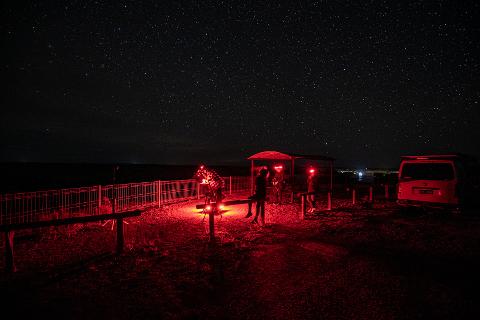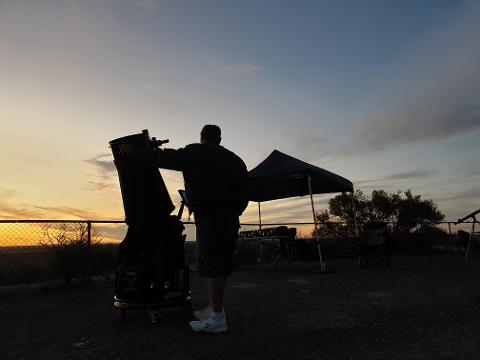 Duration: 7 Hours (approx.)
Location: Mannum, SA
Product code: GOLD SKY
· See the River Murray International Dark Sky Reserve Moon Phase Calendar here.

Journey to one of the earth's darkest places. A stargazer's delight perched on top of the tallest Murray River clifftop in Australia. Meet stars in our backyard – guides of the heritage night sky, Aboriginal custodians, and the native wildlife.
We've teamed up with the stars of astrophotography, astronomy and the local tourism industry to take you on a journey of our remarkable backyard. We've known for decades it's one of the darkest places on earth, and recent recordings of this darkness measured at 21.97 on a scale of 0 to 22. About 200-300 stars can typically be seen in Southern Hemisphere urban areas, whereas an estimated 5000 can be seen from your tour site, including a better view of the centre of the galaxy (the Milky Way)!

Your tour meanders along the roadside path parallel to the Murray River. A popular nesting ground for cockatoos and plentiful wildlife, this farming district has its own story to tell. Cross the ferry at Walker Flat for your first glimpse of impressive ancient cliffs and marvel at the sights from several lookouts as we journey towards Swan Reach.

Discover the highlights of this 130 million-year old natural playground with our internationally accredited dark sky, slow waters, sandy cliffs and steadfast characters. Stay a while and return to your real life once you have let the river and its night sky truly work its magic.

Tour includes:
· Luxury travel in comfortable small group tour vehicle/s to the internationally accredited Mid Murray Dark Sky Reserve area and return.
· Complimentary glass of bubbles
· Use of provided telescope and red torch lights to view stars, constellations, planets, clusters and galaxies
· Useful guided tips to help you connect to the night sky through stargazing
· Astrophotography - Bring your own digital camera & tripod for techniques to capture awe inspiring starry night skies.
· Main meal at Swan Reach Hotel (drinks own cost)
· Guided tour of Ngaut Ngaut Aboriginal Archaeological Cultural site (souvenirs available, no EFTPOS onsite)
· Insightful and light-hearted commentary on your journey, about townships and locations between destinations
· Fully enclosed trailer for transporting equipment and luggage upon request
Ngaut Ngaut immerse yourself in Aboriginal Dreaming at one of South Australia's most significant Aboriginal cultural sites. The Nganguraku people will welcome you to where Aboriginals have lived in the Devon Downs (Ngaut Ngaut) rock shelter for at least 5000 years. Australia's first archaeological excavation took place here, and you can view 12 living layers and three separate cultural stages via the boardwalk wandering around the ancient riverside cliffs. Visit the birthplace of the 'Black Duck Dreaming' with your guides challenge perceptions of Aboriginal culture, leaving you in awe of the resourcefulness of Australia's Indigenous People.
Swan Reach Hotel is a very peaceful location perched on top of golden cliffs with sweeping views of the mighty Murray River. Indulge in a hearty, traditional Aussie pub meal from this prominent location, just 10kms from the Swan Reach Conservation Park – the core site of the internationally accredited River Murray Dark Sky Reserve.
* Bowhill Store or Walker Flat Store may be used instead depending on availability.

Stargazing on the Cliff Top - our region has the tallest cliffs and the longest single bend along the entire length of the Murray River. Positioned on top of either *Big Bend or Walker Flat cliffs, you will have use of provided red torch lights and amazing viewing through the Orion XX12G American made telescope. There are only 3 of these scopes in Australia! With Goto and tracking, and an onboard computer with 50,000 waypoints. Our astronomer will guide you through the night sky of stars, constellations, planets, clusters and galaxies. The views are sure take your breath away.
* Walker Flat cliffs or Big Bend cliffs are the options seeking the darkest viewing. This will be determined by astronomers dependent on the night.
* If you are short on time and would like the astronomy part of the tour only, please refer to dates for our Quick Silver Stars Tour here!

Please Note:
· Weather is vital as telescopes are affected by wind, clouds and rain. Weather forecasts are unreliable until the day of the tour. By 3pm you will be notified if the careful examination by astronomers of weather and cloud forecasts are favourable for the tour. Tours may commence earlier or later than scheduled. Once a tour commences, there is no guarantee of weather interruptions. If clouds appear, we will wait for them to clear and then resume the tour, or look at alternatives in a different direction. Once a tour commences you willingly participate, there is no refund or rescheduling offer. In the event of weather prohibiting your Dark Sky tour from proceeding, we will try to offer you an alternative tour date if possible. Otherwise, you will receive the option to convert to a Gift Voucher valid for 12 months after your cancelled tour, or offered a refund of payment already processed.
· Selected dates are based on dark dates of the moon phase calendar, with the exception of special moon crater viewing dates listed above. Please refer to the River Murray International Dark Sky Reserve Moon Phase Calendar here.
· We recommend Mannum Motel, Mannum Caravan Park, River Shack Rentals or Rabbiter's Hut B&B for accommodation. When booking, be sure to let them know you are travelling with us!
· Dress warm with layers, jacket, scarves and beanie. It gets cold on the clifftop at night time, even in summer.
· Tour meeting time is 4.30pm, at Arnold Park, Mannum (next to the Visitor Information Centre). Arrival time back to Mannum following the tour is approximately 10.30pm.

· A minimum of 6 confirmed passengers is required before the tour will depart.
· This tour is not a private charter unless the maximum of 11 passengers is reached by numbers in your group. This means you may be sharing the ride with others. Private charters are available on request, also outside the darkest moon phase event calendar dates, and the full capacity fare may be charged accordingly.

· Please read our full Terms and Conditions.
Photo credits: Ben Goode (Cover Photo & Big Bend Cliffs Photo) & Dave Hartley Photography, Mannum